NJ Commissioner of Banking and Insurance Joins Walsh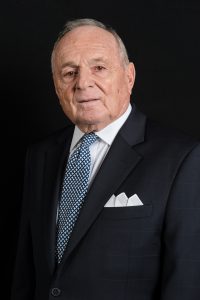 Walsh Pizzi O'Reilly Falanga LLP is excited to announce that Commissioner Richard J. Badolato, who previously lead the State of New Jersey's Department of Banking and Insurance, has joined the firm. Mr. Badolato leads the newly created insurance practice which provides insurance and healthcare regulatory and enforcement advice and handles insurance coverage disputes and counseling as well as related defense work. Mr. Badolato also collaborates with the firm's Financial Services & Risk Management practice, through which founding partner Stephen V. Falanga leads a team representing clients in the banking and financial services sector.
"After my tenure in public service as Commissioner, I am ready to return to private practice," Mr. Badolato said. "I cannot think of a more exciting next step than joining the dynamic firm that Walsh has become."
Before being named as Commissioner, Badolato was a partner in Connell Foley in Roseland for over 30 years, during that time accumulating numerous accolades for his civil litigation skills and bar leadership. Mr. Badolato's more than five-decade experience spans trial and appellate work at all levels of the state and federal courts. In addition to his many other appointments, Badolato is the former president of the New Jersey State Bar Association, the New Jersey State Bar Foundation, and the Essex County Bar Association.
Walsh Pizzi O'Reilly Falanga LLP was formed a little more than a year and a half ago, in May 2016, when 18 attorneys came together to form a new majority women-owned law firm. "I hired and worked with Liza Walsh following her clerkship in the federal courts. When I was asked to join her new firm, I was delighted at the prospect of working with Liza and her other colleagues for whom I have tremendous respect, but more importantly truly like. These are all bright and hardworking attorneys of the highest caliber." Badolato remarked.
Liza M. Walsh, Managing Partner of Walsh Pizzi O'Reilly Falanga LLP, said, "We are all honored to have Rich join us. Having known Rich for many years, we are confident that he will serve as a tremendous asset to our insurance and banking sector clients and to all of our lawyers and staff."
For more information, please contact Liza M. Walsh (973)757-1100 or [email protected]