Richard Badolato to Receive O'Hern Award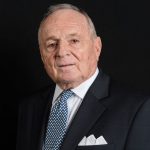 Newark, New Jersey, September 24, 2018 –  The New Jersey State Bar Association announced that Walsh's Richard J. Badolato will be presented with The O'Hern Award by the New Jersey Commission on Professionalism at the organization's annual luncheon on October 11, 2018.  Named for the late New Jersey Supreme Court Justice Daniel J. O'Hern, the award is presented to an attorney who is a well-respected member of the legal community and exhibits integrity, competence, high ethical standards, care achievement and service to the bar and community.
"Richie is truly a New Jersey attorney at his roots, and one of the remaining statesmen of the profession," Essex County Bar Association President Raj Gadhok wrote in a letter nominating Badolato for the award.  In her letter nominating Badolato, Liza M. Walsh, the managing partner of Walsh Pizzi O'Reilly Falanga LLP, lauded Rich's "unimpeachable character, indefatigable commitment to professionalism, and storied legal career marked by service not only to his clients but also the legal profession and the executive and judicial branches of the government of the state of New Jersey."
The New Jersey Commission on Professionalism in the Law is a cooperative effort of the New Jersey State Bar Association, the state and federal Judiciary, and New Jersey's three law schools. The initiative's goal is to highlight the values that have historically made the practice of law a distinguished profession, and instill public respect for judges and the justice system.
Information about the award and the luncheon, including registration information, is available at the New Jersey State Bar Association's website.