Linares Named to Hispanic National Bar Leadership Post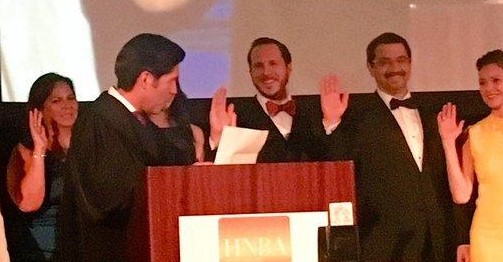 On September 9, 2016, Walsh's Joseph L. Linares was named President-Elect of the Young Lawyers Division of the Hispanic National Bar Association at the organization's Annual Convention in Chicago, Illinois.  In his new post, Mr. Linares will oversee YLD groups within HNBA's 19 Regions and also will hold a seat on HNBA's Board of Governors.  Mr. Linares will be installed as President of the YLD in September 2017 at HNBA's 42nd Annual Convention in Kansas City, MO.  This past year, Mr. Linares served as a YLD Board Member and a member of the national organization's Finance committee.
The Hispanic National Bar Association is a nonprofit, nonpartisan, national membership organization that represents the interests of Hispanic legal professionals in the United States and its territories.
Mr. Linares concentrates his practice on litigation, handling disputes concerning contracts, intellectual property, employment, and torts, as well as corporate/business law and transactional work. In addition to servicing established corporate clients, he also provides counsel for non-profits, small businesses, and start-up ventures.  For more information, please contact Joe at (973) 757-1025 or [email protected].