Walsh Lawyers Argue to Reclassify Schedule I Drug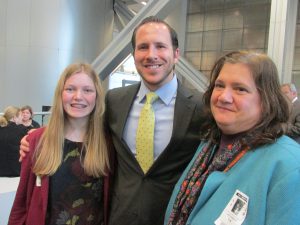 A three-judge panel of the New Jersey Appellate Division heard arguments from Walsh's Joseph L. Linares on Tuesday, November 30th in Kadonsky v. Lee.  Mr. Linare, as well as Walsh's Marc D. Haefner,  are pro bono counsel for the Appellant seeking reclassification of Marijuana's Schedule I designation with regard to New Jersey's Controlled Dangerous Substances Act.  Although the Appellate Division had been presented with the issue of rescheduling before, this is the first time it is procedurally proper for the Appellate Division to clarify the laws of the state giving this matter precedential implications. The late Roger Barbour joined the case by filing an amicus on behalf of his daughter, Genny, whose battle to have in-school access to the medical marijuana prescribed to treat her seizure conditions has been widely publicized. Lora and Marlee Barbour attended the argument and are pictured with Mr. Linares.  The panel will release an opinion at a later date.
Walsh has a commitment to pro bono practice, in particular, litigating important policy issues. For more coverage on the case, the Philadelphia Inquirer's article dated 11/30/2016 is available.