Ruiz to Lead the Hispanic Bar Association of New Jersey; Linares to be a Trustee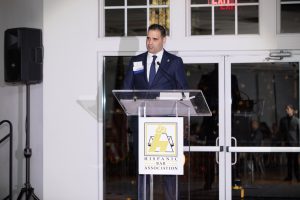 Walsh is proud to announce that Hector D. Ruiz, a partner in the firm, was sworn-in as the President-Elect of the Hispanic Bar Association of New Jersey ("HBA-NJ") at its 37th Annual Installation Ceremony which was held on November 2, 2016, in Jersey City, New Jersey.  Hector will serve as President-Elect for the 2016-2017 term and he will assume the HBA-NJ's Presidency for the upcoming 2017-2018 term.  Walsh attorney Joseph L. Linares was also sworn-in as Trustee at Large.
Mr. Ruiz concentrates his practice on complex commercial litigation in federal and state courts and has substantial experience representing national and regional clients in commercial matters, including business torts, professional negligence, products liability and class action defense. He represents businesses across a wide spectrum of industries, such as pharmaceutical, healthcare, banking, construction, manufacturing, and information systems.
In addition to its many initiatives, programs, and public advocacy activities, the HBA-NJ cooperates with other Hispanic bar organizations, with other Hispanic community, business, civic, charitable and cultural organizations, as well as with other legal organizations, in furtherance of the Association's goal of representing New Jersey's Hispanic legal community.  The HBA-NJ is also a regional affiliate of the Hispanic National Bar Association and is one of the preeminent bar associations in the State of New Jersey.
For further information about Walsh's Business & Commercial Litigation practice, please contact Hector Ruiz at (973) 757-1100 or at [email protected].