Pizzi Law Review Explores "What If" Questions Regarding Social Media Immunity Statute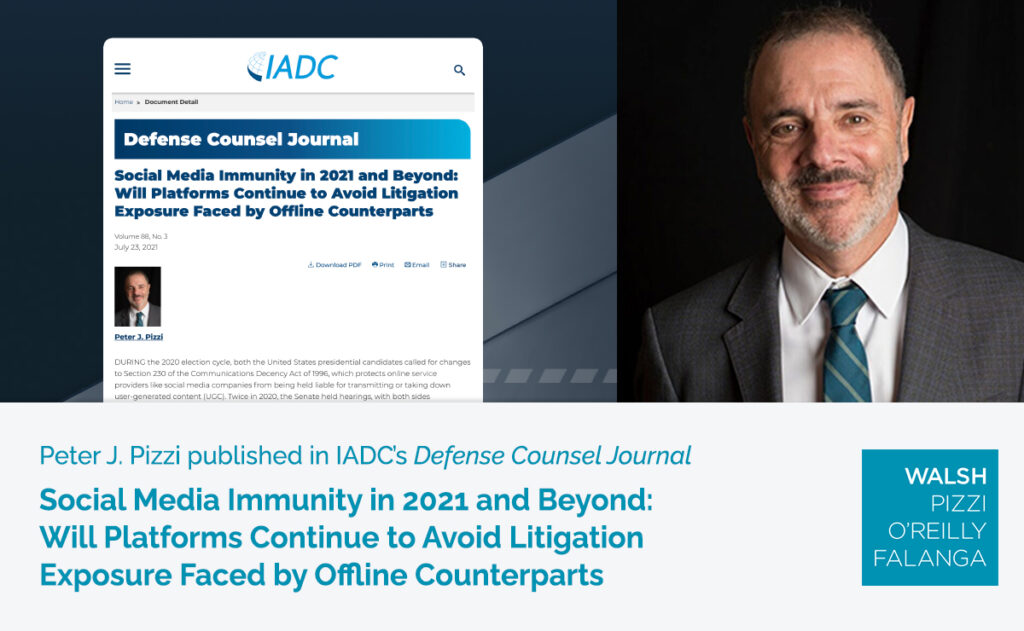 NEWARK, NJ – Walsh Partner Peter J. Pizzi, CIPP/US has published an in-depth article in IADC's Defense Counsel Journal Volume 88, No. 3 explaining the elements of the statutory immunity granted by Section 230 of the Communications Decency Act of 1996 and summarizing complaints against the current scope of Section 230 as interpreted by the courts. Pizzi also explores whether the problems observed with social media have resulted from Section 230 itself, from the engagement-focused technologies delivered by Silicon Valley, or from a combination of these and other factors.
Section 230 of the Communications Decency Act of 1996 protects online service providers like social media companies from being held liable for transmitting or taking down user-generated content (UGC). Since inception, the law has fostered complex and multi-layered legal considerations.
Entitled Social Media Immunity in 2021 and Beyond: Will Platforms Continue to Avoid Litigation Exposures Faced by Offline Counterparts? the article can be read in its entirety here.
The Defense Counsel Journal is a respected forum for the publication of topical and scholarly writings on the law, its development and reform, and on the practice of law, considering current legal trends at a scholarly level.