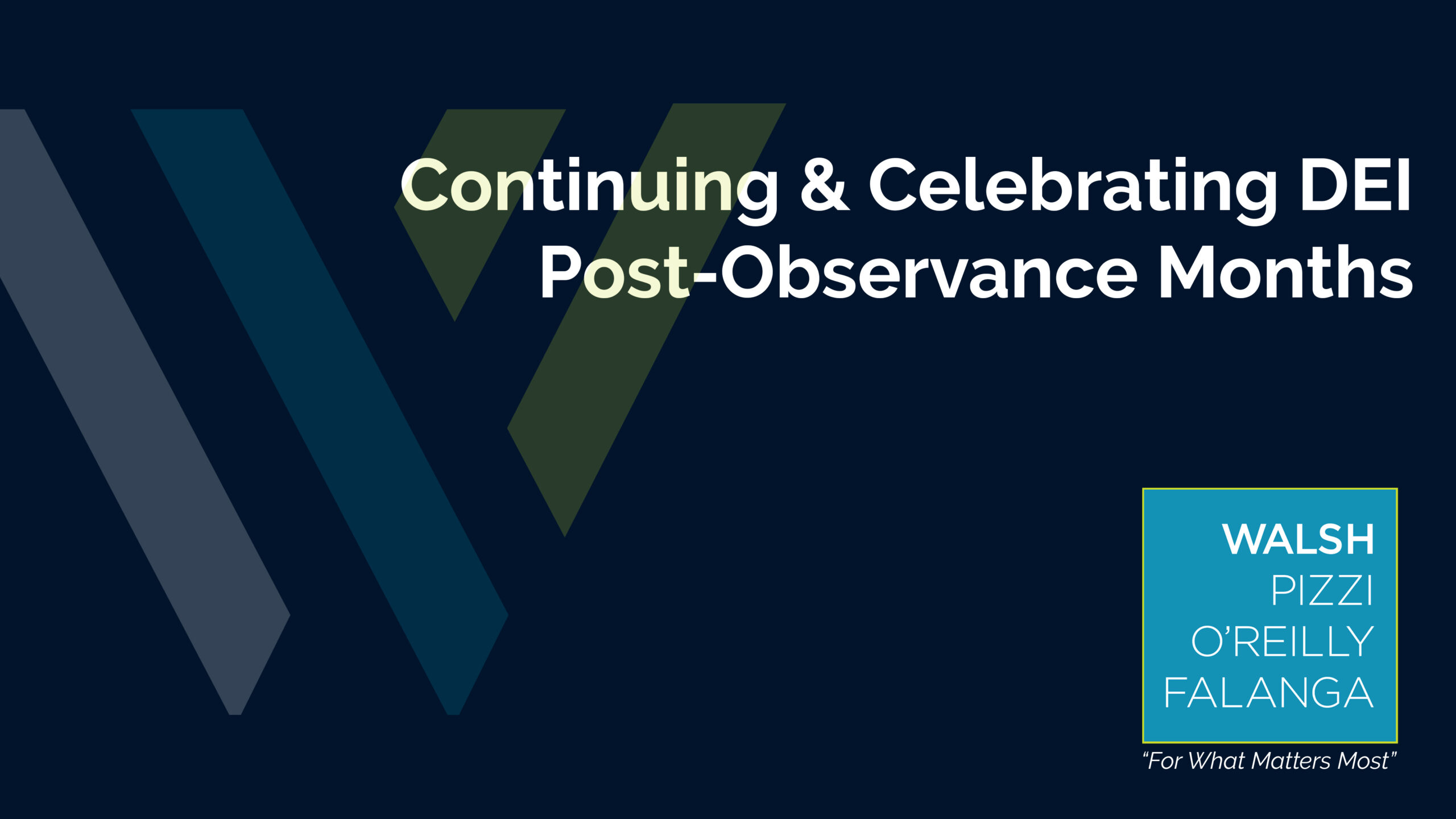 Celebrating Diversity, Equity & Inclusion Post-Observance Months
In the pursuit of a more inclusive legal landscape and reflection on Hispanic Heritage Month, Walsh proudly spotlights two of its distinguished Partners, Hector D. Ruiz and Joseph L. Linares. Beyond their roles at the firm, both Linares and Ruiz are dedicated to fostering diversity in the field of law. Their contributions extend to prominent positions within the Hispanic National Bar Association and the Hispanic Bar Association of New Jersey as well as holding roles within the New Jersey State Bar Association.
Ruiz's upbringing in New Jersey, with parents hailing from Puerto Rico, shaped his values and work ethic. He credits his parents as his heroes, instilling the significance of education, hard work, and integrity from his earliest memories. Their influence laid the foundation for his esteemed legal career.
Meanwhile, Linares' family immigrated from Cuba in the late 1960s. Through unwavering determination and a commitment to education, they carved out a place for themselves in the United States in pursuit of the "American Dream." Linares chose a legal career as a means to leverage his problem-solving skills for the betterment of clients and communities. He reflects, "As lawyers, we have certain skills and tools available to us that may seem foreign to the general population. It's a privilege to practice law and it's a privilege to help others."
Diversity, equity, and inclusion are not just buzzwords, but essential components of a thriving workplace. Ruiz finds encouragement in witnessing the rise of diverse attorneys assuming leadership roles across law firms, in-house positions, universities and on all levels of the bench at both the state and federal levels.
While strides have been made for inclusivity in the past decade, there is still room to both learn and educate within the workplace and communities. The legal profession's demographic makeup must better align with that of the broader population. "We need to have a continued dialogue and strong mentors," Linares explained, "The profession has a pipeline issue. With respect to people of color, we need to inspire young adults to pursue the profession, and then champion them once they are practicing. It is all of our responsibility to advocate for a more inclusive profession to better serve both clients and our communities."
For aspiring Hispanic attorneys and law students, Linares emphasizes the importance of authenticity. He asserts that the profession flourishes when individuals bring their genuine selves to their work, as one's cultural identity is inseparable from their best contributions.
Ruiz advocates for mentorship as a cornerstone of professional growth. He urges law students to engage with organizations that connect them with experienced peers. Additionally, he encourages opportunities that cultivate practical skills such as participation in Inns of Court, pro bono work, and programs that afford young attorneys courtroom experience and client interaction.
Hector D. Ruiz and Joseph L. Linares exemplify the commitment and passion required to drive diversity, equity, and inclusion in the legal field. Their personal narratives serve as inspiration for future generations of Hispanic attorneys and law students. By embracing their cultural identities and actively seeking mentorship and experiential learning, the path to a more inclusive legal community becomes clearer.