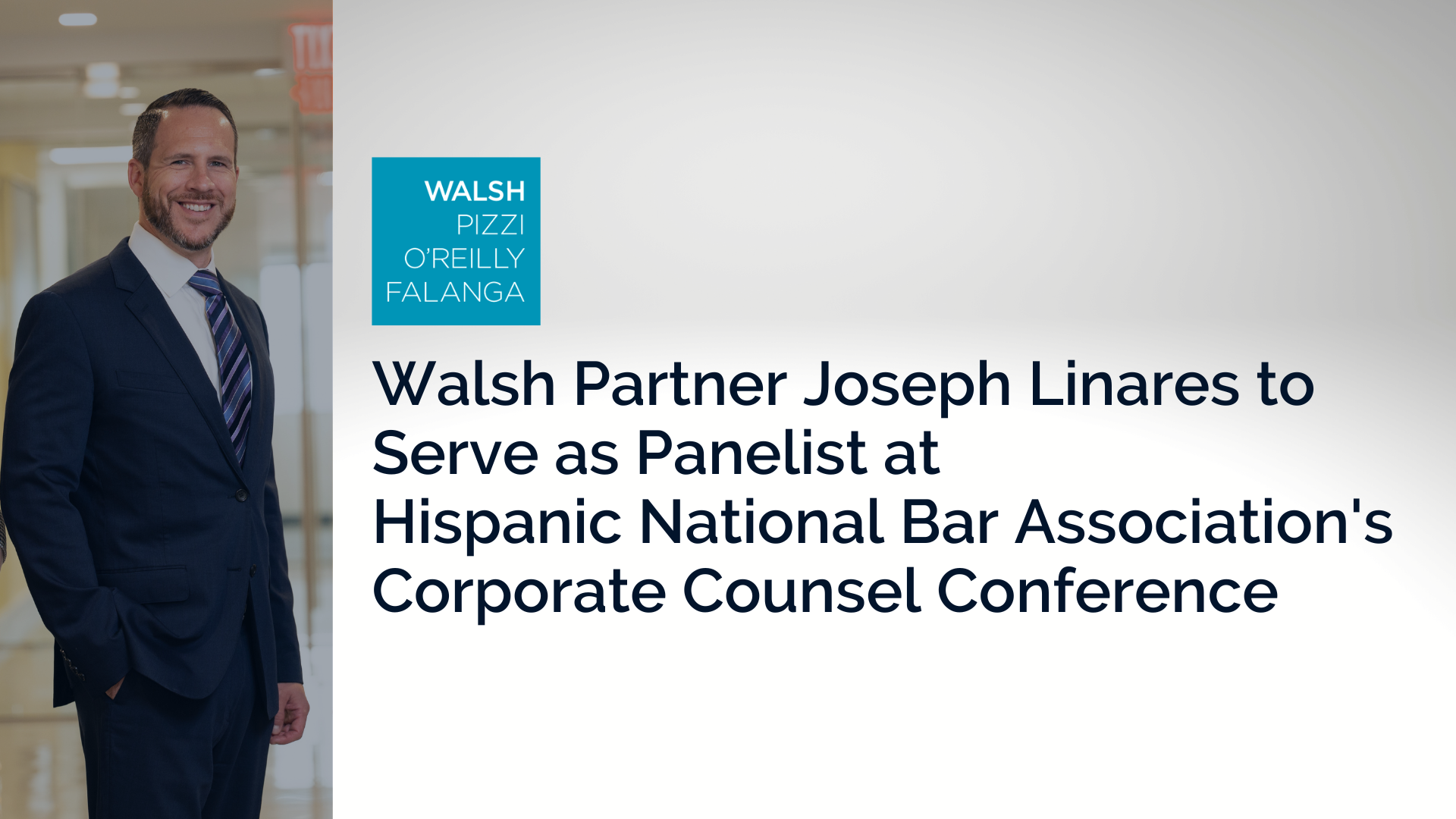 Walsh Partner Joseph Linares to Serve as Panelist at Hispanic National Bar Association's Corporate Counsel Conference
NEWARK, NJ, February 28, 2023 – Walsh Pizzi O'Reilly Falanga LLP Partner Joseph Linares will be a panelist at the Hispanic National Bar Association (HNBA) 2023 Corporate Counsel Conference, which will take place in Phoenix, Arizona in mid-March. Joseph serves as programming chair for the distinguished event, and Walsh Partner Hector D. Ruiz will be in attendance as well.
Joseph will be alongside Clara Jimenez, Senior Counsel of Johnson & Johnson, Brianna Hinojosa-Smith, Chief Legal Officer of Yum! Brands, and Jorge Gonzalez, Senior Counsel of AbbVie, Inc. for a panel titled, "EQ in IP—Building In-House/Outside Counsel Relationship in IP."
The panel will look to discuss tips for managing and building a successful long-term relationship between in-house and outside IP counsel. The topics will include tips on frequency and tone of work-product communications, setting goals and expectations, and engaging one another for feedback. Panelists will also share their perspectives on the IQ and EQ skills they seek from their counterparts, whether related to IP litigation, transactions, or other related work.
"I am looking forward to presenting alongside in-house counsel from such established companies," said Joseph. "It's important to know the law, but equally important to know your client's business and what its IP means to it. I will be addressing both ends in Phoenix this month."
The Hispanic National Bar Association (HNBA) is a national membership association that represents the interests of over 67,000+ Hispanic attorneys, judges, law professors, legal assistants, law students, and legal professionals in the United States and its territories. The Corporate Counsel Conference provides unique opportunities for outside counsel to meet representatives from numerous Fortune 500 Companies. The CCC2023 will offer three days of learning and connecting as part of a robust and forward-looking program on cutting edge topics led by leading practitioners and leaders from across the country, and one-of a kind networking opportunities.