Walsh Attorneys Participate in Inaugural Rosemary Gambardella Scholarship Competition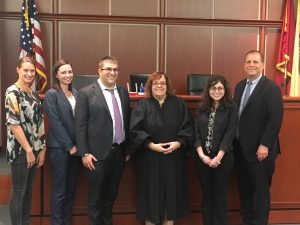 On November 17, 2016, Walsh's Colleen M. Maker participated as a judge in the Inaugural Honorable Rosemary Gambardella Scholarship Competition alongside Judge Rosemary Gambardella of the U.S. Bankruptcy Court for the District of New Jersey, for whom she formerly clerked.  The competition was hosted by the New Jersey Chapter of the Turnaround Management Association (NJTMA) and tested, over three rounds, the students' understanding and application of turnaround concepts, distressed situations and bankruptcy law.  The final round of the competition challenged the four finalists to argue their case in 30 minutes before answering questions from the panel of judges.   NJTMA awarded each of the four Rutgers Law student finalists with a scholarship totaling $5,000.00.  Sydney J. Darling served a co-chair of the competition and Christopher M. Hemrick participated on the committee.
The full article in the Rutgers Law Alumni Newsletter is available.